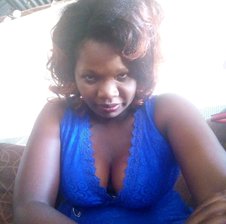 Calmer001
Favoris
M'aviser quand en ligne
30, Cancer, Kenya, Kisumu
Dernière Connexion:
11/12/22 08:25:23
Galeries Photos Protégées par un Mot de Passe My pics.
4

photos
4 photos
Les détails importants de
Calmer001
| | |
| --- | --- |
| Sexe | Femme |
| Intéressé par | Hommes |
| Age | 30 |
| Taille | 160cm - 170cm |
| Poids | 60 - 70 kg |
| Cheveux | Brunes |
| Yeux | Marron |
| Origines | Blacks |
| Langues | Anglais |
| Ville d'origine | Kisumu |
| Poils Pubiens | Poilues |
| Poitrine | Grosse |
| Cul | Grosses |
Dirty talks, flatter, appreciate, respect, a good body and a good sized dick
I'm that hot chocolate 🍫 ebony queen you've always wanted to bang but never had. The woman you've always seen in your dreams.
Disrespectful men.
Ce que je fais sur une webcam :
Heures de travail de Calmer001
Clips Amateurs de Calmer001
I love sucking a dick, it gives me alot of pleasure. I love what im doing to that dildo. Come watch and have fun with me. I also got some big ebony boobs. Touching Touching shaking and rubbing this dildo between them is fun. Watch me live, follow...
2:13
Vues

10
ACHETER 25 jetons
Liste de souhaits de Calmer001
1

What i need to improve my cam show
I wish to have a good bed for my comfortability as a cam girl. A good bed will contribute in improving my background too during my cam shows.My second wish is to own good lighting system as i believe lighting determins success in cam model shows, Good lighting will improve alot the image and mprove my background and for picture quality. I also wish for a couple of toys as I believe toys improve and make camming more fun, enjoyable to both the cam model and the viewers. A couple of lingerie, some good jewelry to add to my looks. More and latest high heels to make me shine as a model. I wish to succeed and take cam modelling to a high height and level so that the society can learn to appreciate and respect cam girls. And respect cam modelling as a career.My wish is to own a home for myself some day getting to buy my own home some day is my biggest wish. also wish to be respected by both my viewers and my bosses. I wish to have a quality web cam camera and to make my room appealing to both my viewers and I. I believe that having a good camera will improve my show and make have more and more viewers. Cam modelling happens more on camera so my biggest wish is to own the best quality camera.
Lire la suite